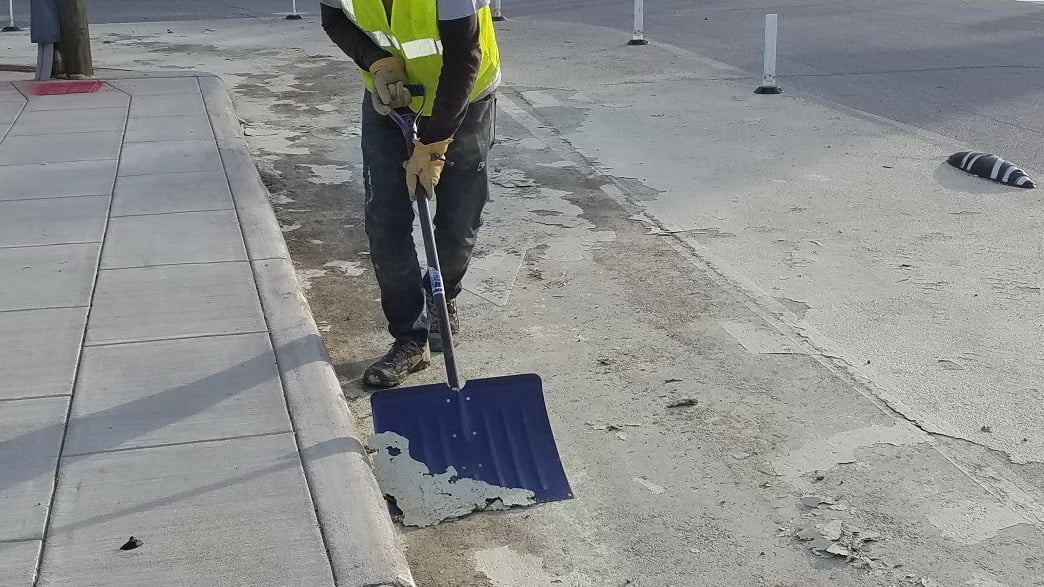 We're writing to update you about a problem that has made the news this week: the paint is failing on the multi-use path portion of the Coxe Avenue tactical urbanism project.
We apologize without reservation for the failing paint on the multi-use path.
Asheville on Bikes, AARP, Blue Ridge Bicycle Club, and Street Plans stand behind this work.
And that is the first thing to know: This project is fully supported. The Street Tweaks team and our volunteers began cleaning the corridor within 24 hours of learning the extent of the problem, and we will continue supporting the project as needed, including clean up and removal of additional failing paint in the multi-use path.
We welcome your comments, and you should freely express your concerns and hopes about the project. We've left the comments open on this page, and you are welcome to email Asheville on Bikes directly with any specific needs, as part of our support and mitigation plan for the project:
mitigation-plan@ashevilleonbikes.com
History of the paint used
Our multi-use path paint was provided by U.S. Specialty Coatings, along with paint consulting advice, as part of the design phase of our project. We followed their recommendations for our install process, but we ultimately found that advice to be flawed and the products they provided failed in our application. If you are a paint nerd, as we are now, feel free to hit us up and we'll share the spec sheet details, along with more of our frustrations with this vendor.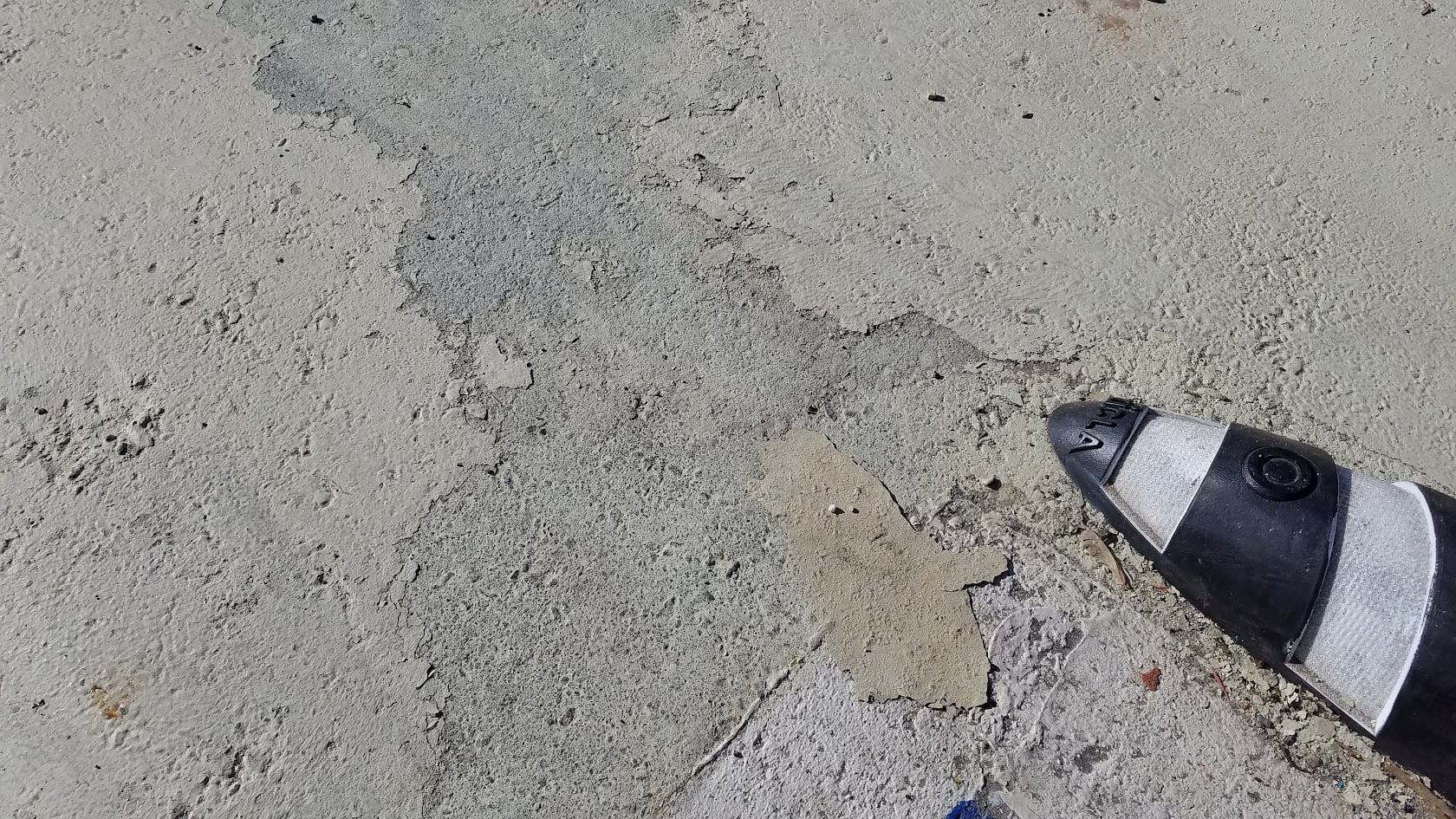 What has happened so far?
The tan paint has begun flaking and separating from the roadway, after going through multiple freeze/thaw cycles following our recent snow. Some of those flakes moved to the sidewalk and adjacent parking areas. The Street Tweaks team removed all loose paint in the roadway during work on Dec 18th and 19th, including some of the loose paint that flaked onto surrounding properties. This paint removal work intercepted the bulk of the loose flakes trapped along the curb before they could spread further, but there is further work to do to clean up paint flakes on the corridor.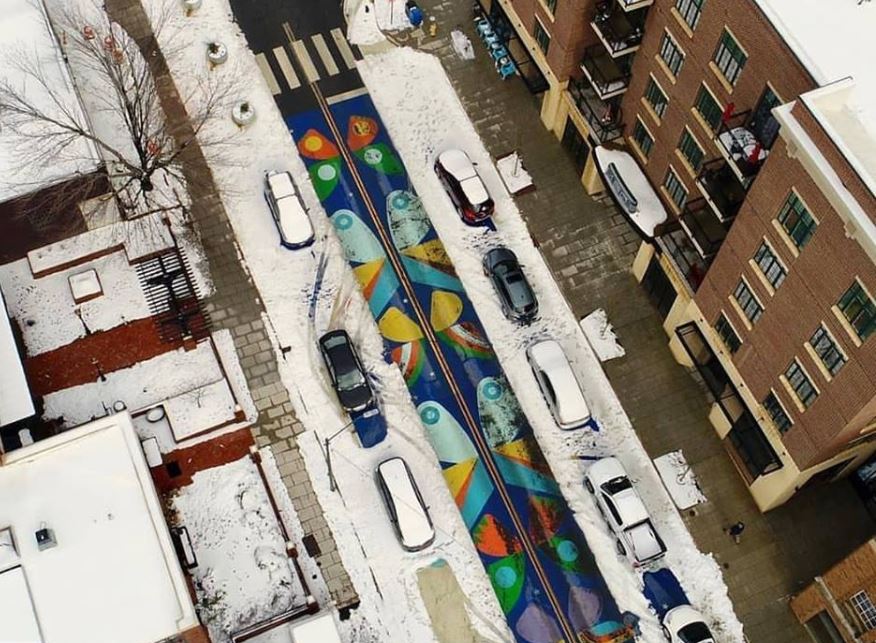 What happens next?
The Street Tweaks team has assembled a rapid response team who are capable of further clean up work as the remaining paint continues to flake off. We will have one or more further workdays until we reach a point where we have removed nearly all of the tan paint from the multi-use path, the roadway, the sidewalk, and parking areas of any adjacent businesses. With the paint removed, we will wait for warm Spring weather before cleaning and repainting the multi-use path, using paint and consulting advice from a new vendor.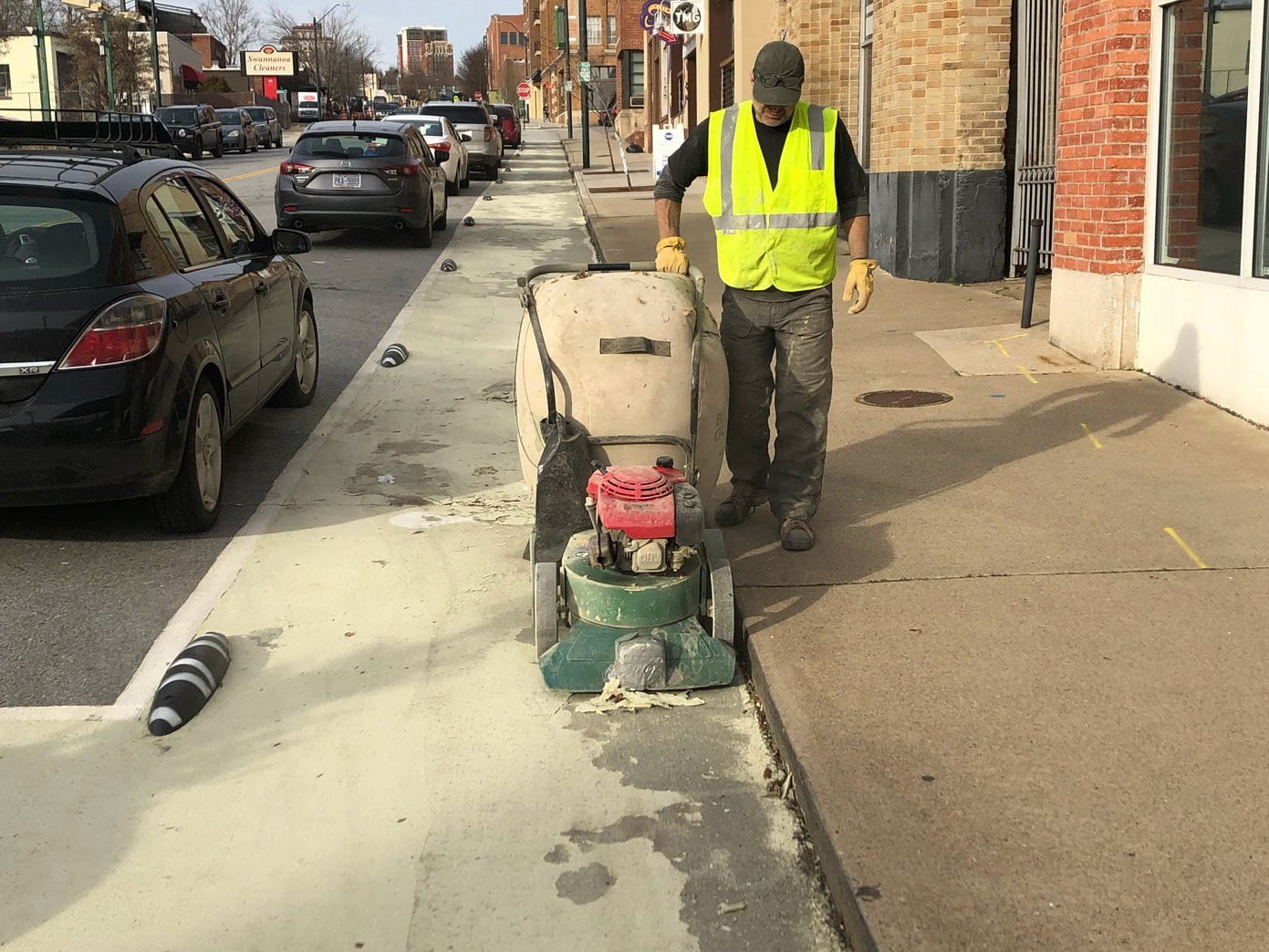 Is this an environmental problem?
The paint that is flaking is dried latex paint. Though the flakes of paint look bad, they are less harmful than other materials that already enter our storm sewers this time of year, like the salt used on our roads after each snow. Further, most of the flaking paint was intercepted and removed using a street vacuum before it had a chance to spread from the immediate area. Even though the flakes are unlikely to cause environmental harm, we are committed to removing them, before they can enter the storm drains on the corridor in any significant amount.
Is the street going to be closed for any of this work?
At this time, we do not anticipate any street or parking closures as we execute our paint removal work. The loose paint removal work on the corridor on 12/18 and 12/19 went smoothly with no street or parking closures.
What should you do if your business is affected by flaking paint?
Contact our team by using this email address, mitigation-plan@ashevilleonbikes.com. We will respond via email and send someone to your business to assess the problems, plan work, and remove flaking paint. Depending on the extent of the problem, those three steps may all happen during one visit.
Relevant timeline:
11/1/2018 Project install begins.
11/4/2018 Project install finishes.
11/6/2018 Initial partial failure of paint in multi-use path. New paint provided by manufacturer.
11/10/2018 Repaint of multi-use path with new recommended paint.
12/9/2018 First major snowfall in Asheville, followed by freeze/thaw cycles for the next week.
12/17/2018 We were notified about chipping paint on the Coxe Ave project.
12/17/2018 Initial assessment reveals extent of the problem; all multi-use path paint is failing, in the form of flakes lifting off road surface.
12/18/2018 Removal of failed and loose paint on corridor.
12/19/2018 Removal of failed and loose paint on corridor.
12/22/2018 Removal of failed and loose paint on corridor.
12/24/2018 Removal of failed and loose paint on corridor.
Thank you for your patience as we clean up the paint flakes.
Further reading about this project – why it exists, what it is, and how it helps our City: