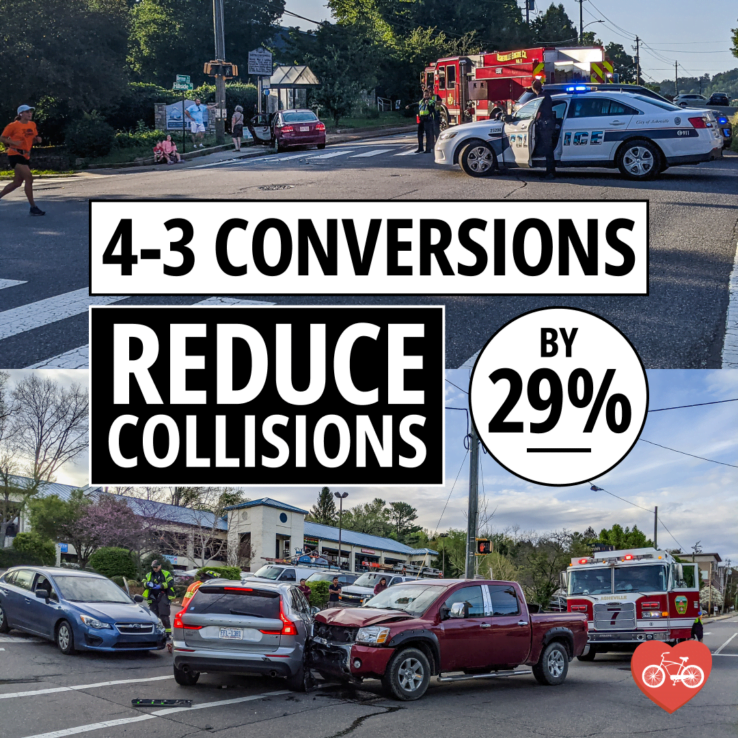 WHO IS ASHEVILLE ON BIKES?
Asheville on Bikes (AoB) is a 501(c)(3) organization whose mission is to cultivate the culture of urban and commuter bicycle riding through advocacy, education, and celebration. More than 25,000 people have participated in our group rides, hundreds of middle school children have learned to ride through our youth cycling program, and our active membership includes more than 800 residents of Buncombe, Haywood, and Henderson counties. Our after school bicycle program at Asheville Middle School is the only bicycle education program in the state of North Carolina that has run continuously for the last 10 years. In 2020, we won a major national award when we were named Bicycle Advocacy Organization of the Year by the League of American Bicyclists.  We are active advocates for multi-modal projects, complete streets, and bicycle or pedestrian infrastructure.

ECONOMIC IMPACTS OF SELECT 4-3 CONVERSION PROJECTS
| | | | | |
| --- | --- | --- | --- | --- |
| Project Name | Traffic Volume (ADT) | Location | | Economic Impact |
| Hillsborough St | 26,000 | Raleigh, NC | | Private investments increased from $150 million to $200 million along the corridor. |
| East Boulevard | 21,400 | Charlotte, NC | | 47% increase in non-residential property values. |
| La Jolla Boulevard | 23,000 | La Jolla, CA | | Retail sales rose 30 percent and noise levels dropped 77 percent. |
| Edgewater Drive (pdf) | 20,000 | Orlando, FL | | 77 net new businesses and 560 jobs over 10 years. |
PLANNING DOCUMENTS THAT SUPPORT THIS PROJECT
Click here to see on one page the 23 planning documents that agree with, call for, or support a 4-3 conversion with bike lanes for Merrimon (pdf).
MYTHS ABOUT THIS PROJECT
| | | |
| --- | --- | --- |
| Myth: | | Reality: |
| Bike riders are forcing this plan on the City | | City staff proposed this in 2018 in their letter to NCDOT when the City opposed widening the road. The proposal came from City staff who were acting in accordance with City planning documents calling for increased multimodal infrastructure. None of the proposed plans for Merrimon, in 2018 or today, have been created by Asheville on Bikes or any other group of cycling or pedestrian advocates. |
| This project is all about a building a bike lane | | This project is all about a safer traffic pattern that increases the health and wealth of nearly everyone using this road. Bike lanes are the place where current and future low speed personal vehicles will travel and it is the highest value use of the space created by implementing the 3 lane traffic pattern. The bike lane is welcome, but it is not the primary benefit of this project. |
| No one uses our existing bike lanes | | Imagine a road network for a City of 90,000 where roads do not connect, where many of the roads were unsafe, and where the entire network consisted of less than 15 paved lane-miles and less than 15 miles of greenway. That is the state of our existing bike network in Asheville. In spite of that paltry coverage, bike usage increases each year and bicycle riders regularly use these facilities. |
| Emergency vehicles will be slowed down | | Emergency vehicles are likely to be unaffected or experience faster response times. Neither the road diet on Charlotte Street or College Ave have resulted in increased response times. Further, the reduction in injuries will mean fewer traffic collisions in need of emergency response; road diets average a -29% on all collisions and Charlotte Street has so far resulted in -59% all collisions. The oft repeated myth the 4-3 conversions are bad for emergency responders is directly contradicted by nearly all studies of road diets and is specifically called out by the FHWA. |
| Business will suffer | | Businesses are likely to prosper, because when cars slow down, collisions decrease, biking increases, and walking increases, the amount of commerce in an area goes up. Have you ever wondered why Merrimon harbors so many vacant or derelict properties when compared to other parts of Asheville? One reason is that the current road design makes it difficult to safely reach businesses on this corridor. |
| All businesses are against this | | Many businesses are in favor of this project and have participated in the public process. They are part of the 59% of the public who support this proposal. |
| It will be more dangerous for cyclists | | The flawed logic goes like this: Because the bike lane will be on the right, when a motorist is turning right, they will turn across the bike lane and hit a cyclist, since none were there before this project and some people could use the lane after it is installed. Must we point out that we each have a duty to control our vehicle, to look to see when a travel lane is clear, and that no such problem is occurring on any of Asheville's other bike lanes? This straw man argument ignores the time-tested safety improvements offered by creating space in the right of way for vehicles other than cars. Bike lanes will create a safer place to ride a bike, an ebike, a one-wheel, an e-scooter and other future forms of personal transportation. It is sorely needed in a City that is otherwise the most dangerous in NC for cyclists or pedestrians. |
| No one had enough time to comment or learn about this project | | Merrimon is controlled by NCDOT and this proposed project is part of a scheduled repaving. NCDOT appears to have communicated with the City in a way that they did not in 2018, including reports about this project during open advisory committee meetings and public traffic study data released about the corridor. From what we can see, NCDOT and the City of Asheville have followed or exceeded all their own published guidelines about holding public meetings and showing plans to the public, going so far as to hold an open call for comments and a survey that amounted to a public referendum on a repaving project. Of the more than 4000 responses to the survey, 59% of respondents were in favor of the 4-3 conversion. Additionally, since the first press release about the project in January 2022, this project has been written about by our newspapers, our local cable news, by neighborhood associations, by AoB, by Connect Buncombe, by Mountain True, and in its many mentions on social media. We don't know of any similar project that has received so much notice and attention. |
| Merrimon's traffic volumes are too high | | There is no official upper limit on traffic volumes for a 4-3 conversion, as per the FHWA. Further, the traffic volumes on Merrimon have remained flat or decreased for many years and those volumes, around 20,000 cars/day, are within the range typically considered for a road diet. It is true that these plans should be carefully considered and that the design of this 3 lane could involve other changes to the corridor in order to make the resulting traffic pattern work well for all users. |
| Merrimon has too many curb cuts for it to work | | The number of curb cuts on Merrimon is an example of poor planning in our City, where each landowner has been allowed to take extra benefits from the public asset, a road, in small increments over time, in the form of increased curb cuts to benefit select properties. Current City zoning on Merrimon will require many of the most egregious examples to change at the time property is redeveloped, resulting in a safer traffic pattern and better pedestrian experience. The curb cuts are not, however, a reason to fail to restripe the road now, at low cost, so that it can become safer. Changing the road now makes it even more likely that the sidewalks and curb cuts will be improved by a future project, a situation that has just played out on Charlotte Street and its I-240 bridge. |
| No case study is relevant because none are exactly like Merrimon | | For a case study to be relevant, it does not need to be a mirror image of any particular roadway. Instead, it needs 3 things: a similar traffic volume, a similar mix of commercial and residential areas, and trusted data tracked over time. We can learn useful information from similar roads that are not identical to Merrimon in the same way that you can find a long term romantic partner without finding someone exactly like your mom or dad. |
| This project doesn't help pedestrians | | 4-3 Conversions help pedestrians in several ways. They create a buffer, distancing the sidewalk from fast moving traffic. They improve site lines at all intersections, making it easier for drivers and pedestrians to see each other. They shorten the number of car travel lanes a pedestrian must cross at each intersection. These improvements often result in increases in the number of people walking, setting us up for future projects to directly improve the sidewalks. |
LIST OF PEOPLE WHO HAVE DIED OR BEEN DISABLED IN COLLISIONS ON SIMILAR ROADS IN OUR AREA
These are news stories about a few of the many preventable fatalities and injuries occurring on roads in our region. In the current 4 lane configuration you are 150% more likely to be involved in a collision on Merrimon when compared to the NCDOT database of North Carolina roads of similar size.
You might also enjoy reading:
Related content: